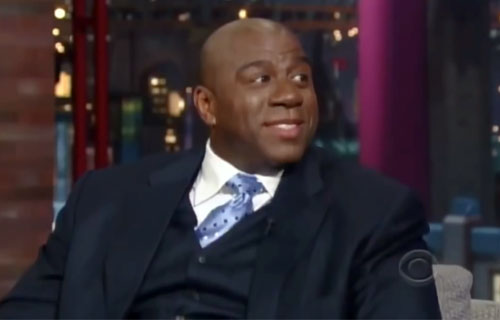 LOS ANGELES, CA. — The great NBA legend, Magic Johnson, along with labor leader María Elena Durazo have been named vice chairs of the committee seeking to promote Los Angeles as the host city for the 2024 Olympics. Johnson and Durazo will join four-time Olympic swimming champion Janet Evans as vice chairs on the board of directors of the city's Olympic and Paralympic candidature committee, LA 2024. Source: LA Biz.
"The only thing greater than bringing a sports championship to Los Angeles would be bringing the Olympics back to the best sports town in America," Johnson said in a statement. "I was here for the 1984 Games, and I saw a city that was united and honored to welcome the world. As a former Olympian, I'm proud to join the LA 2024 team and give them 'an assist' in returning the 2024 Olympic and Paralympic Games to the United States."
Earvin "Magic" Johnson is considered one of the all time greats who ever played basketball. After being drafted by the Los Angeles Lakers in 1979, Johnson's first season included a championship and a Finals MVP award. During his career, Magic achieved five NBA championships and three Most Valuable Player Awards. Johnson is no stranger to the Olympics, having been part of the gold-medal winning "Dream Team" at the Barcelona 1992 Olympic Games.
In 1994 he began his first year as the Lakers' Vice President. In 1996 he was voted one of the 50 Greatest Players of All Time by the NBA, and in 2002, he was inducted into the Basketball Hall of Fame. ESPN's Sports Century ranked Johnson #17 in their 50 Greatest Athletes of the 20th Century. In 2006, ESPN rated Johnson the greatest point guard of all time. In March 2012, Johnson was part of an investment group that won the bid to own the Los Angeles Dodgers.
Sports Speakers 360 is a booking agent for pro athletes. If you would like to book Magic Johnson for a speaking engagement, appearance or endorsement, contact Magic Johnson's booking agent for fees at 1.855.303.5450.