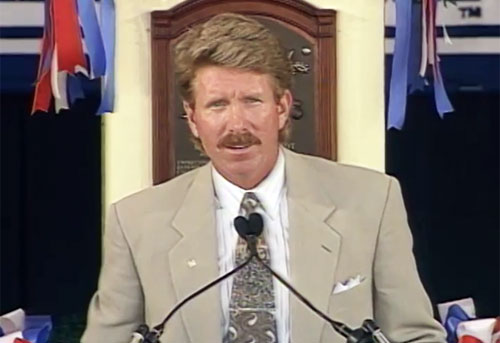 ESPN – Hall of Famer Mike Schmidt was recently named all time best third baseman on ESPN's positional rankings. Mike Schmidt was inducted into the Baseball Hall of Fame in 1995 and has earned numerous honors such as 12-time All-Star, 10 Gold Gloves, World Series MVP, three-time MVP and six Silver Sluggers. Source: ESPN
According to the ESPN article Senior Baseball Writer Dave Schoenfield had the following comments about Mike Schmidt:
"Schmidt dominated the home run leaderboards in his era, winning eight home run crowns, was one of the best-fielding third basemen ever with nine Gold Gloves, had good speed early in his career and annually drew 100-plus walks. He's the best third baseman ever and there isn't really much debate."
Mike Schmidt is a Hall of Fame third baseman, widely considered as one of the greatest at the position in the history of Major League Baseball. He played his entire career for the Philadelphia Phillies. Trailing the Pittsburgh Pirates 6-5 at Three Rivers Stadium on April 18, 1987, Schmidt hit his career 500th home run, a three run shot off of Don Robinson to win the game, 8-6. Injuries to Schmidt's rotator cuff caused him to miss the last month and a half of the 1988 season. He returned healthy for the 1989 season, however, after a poor start, Schmidt suddenly chose to announce his retirement in San Diego, on May 29.
Sports Speakers 360 is a booking agent for pro athletes. If you would like to book Mike Schmidt for a speaking engagement, appearance or endorsement, contact a Mike Schmidt booking agent for fees at 1.855.303.5450.