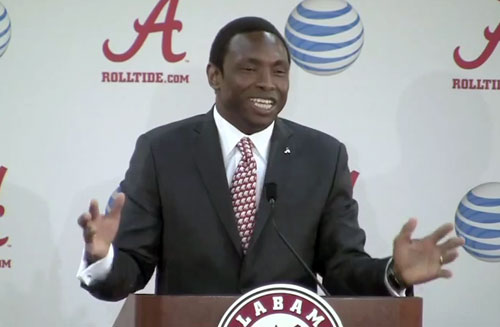 PENSACOLA, FL – Alabama Head coach Avery Johnson spoke to the Crimson Tide boosters at Pensacola State College on Tuesday, August 2, 2016. The event was for members of the Pensacola BAMA Club and was held at the Pensacola State College Gymnasium, 1000 College Blvd. Pensacola, FL 32504. Source: Pensacola News Journal
According to the Pensacola News Journal article, at the gathering Johnson outlined his aspirations for the basketball team:
"We are trying to get premium, blue-chip players like our football team (Alabama) does," … "I've been talking to coach Saban … success is found by trying to recruit high-level players with high character that can perform on the biggest stages. We figure, if we partner with (Alabama) football and look at their success, then I think we can do the same with basketball. Football has the blueprint for success."
Avery Johnson is currently the head basketball coach of the Alabama Crimson Tide. Johnson spent 16 years in the NBA as a player, and subsequently served as the head coach of two NBA teams: the Dallas Mavericks and New Jersey/Brooklyn Nets. He led the Mavericks to their first NBA Finals appearance and to three consecutive 50+ win seasons. During his playing days, Johnson was known as the "Little General" for his small stature, for his leadership skills as a point guard and floor general, and for his close friendship with former San Antonio Spurs teammate David "The Admiral" Robinson.
Sports Speakers 360 is a booking agent for pro athletes. If you would like to book Avery Johnson for a speaking engagement, appearance or endorsement, contact a Avery Johnson booking agent for fees at 1.855.303.5450.