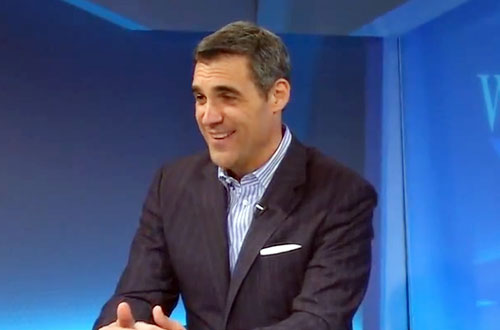 WAYNE, PA — Villanova basketball coach Jay Wright was the guest speaker on Oct. 7 in the "HomeGrown – Lectures, Learning, Locally" series at the Wayne Art Center. Wright's Wildcats were only 1 out of 9 teams to have advanced to the NCAA Tournament in 10 of the last 11 seasons, but Wright is most proud of the fact that every Villanova player who has spent four years in the program has earned his degree – on time. Source: Bruce Adams.. mainlinemedianews.com.
"It's such a thrill to be a part of that," said Wright to the audience of about 100 people. "It's a tribute to the professors, to a lot of the people there [at Villanova]. "Our society has put so much emphasis on celebrity and making money that to many people, the only dream worth having in college basketball is to make it to the NBA. [A college basketball player] having a dream of getting a great education and serving others doesn't register with a lot of people. We try to recruit people [to the Villanova men's basketball program] who have someone around them who makes it a priority to get their degree."
Jay Wright has served as head basketball coach at Villanova since 2001. He was named the Naismith Coach of the Year in 2006 and led the Wildcats to the Final Four in 2009. If you would like to book Jay Wright for a speaking engagement, guest appearance, product endorsement, charity fundraiser or corporate event, contact Jay Wright's booking agent at Sports Speakers 360 for appearance and speaker fees or call 1.855.303.5450.