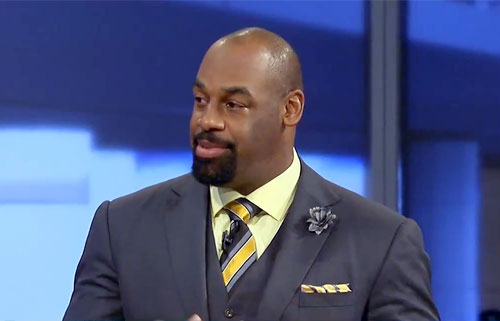 SYRACUSE, N.Y. — Former NFL and Syracuse quarterback Donovan McNabb visited Syracuse on Tuesday Oct. 27th to serve as the keynote speaker for the Central New York Insurance Trade Show. Among the topics McNabb hit on were Scott Shafer being the right head coach for Syracuse, Chip Kelly's needing to start winning to justify his genius status in Philadelphia and his hopes to make the College Football Hall of Fame more than the NFL version. Source Syracuse.com.
Donovan also compared running a business to being a member of a football team and, during a conversation with media members, said he doesn't believe his two DUI arrests in the past two years is due to an alcohol problem. He also shared plenty of opinions about football and Syracuse, thoughts that hold weight due to his success and his spot on the Syracuse University Board of Trustees.
Donovan McNabb is a former NFL quarterback who played for the Philadelphia Eagles, Washington Redskins and Minnesota Vikings. He is the Eagles' all-time leader in career wins, pass attempts, pass completions, passing yards and passing touchdowns. McNabb joined the NFL network as a broadcaster along with former players LaDainian Tomlinson, Darren Sharper and Shaun O'Hara on September 5, 2012. In a press conference held on July 29, 2013 at Novacare Complex in South Philadelphia, McNabb officially announced his retirement.
Sports Speakers 360 is a booking agent for pro athletes. If you would like to book Donovan McNabb for a speaking engagement, appearance or endorsement, contact Donovan McNabb's booking agent for fees at 1.855.303.5450.