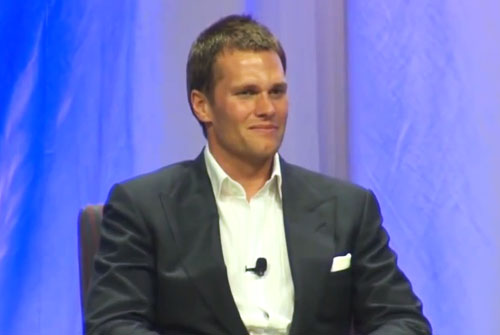 FOXBOROUGH, MA. — QB Tom Brady spoke at a charity function on Tues. Sept. 1, appearing at the annual preseason Patriot Premiere where he referenced Deflate-gate, joking, "Yeah, it's been such an enjoyable off-season." Source: UPI.
The Super Bowl Champ praised his co-workers Tuesday, saying:
"The commitment the players make, and the commitment the coaches make to try to establish such a high level of play year in and year out is something I've really learned from being here. I try to pass those things on to the next generation of great Patriot players, and sometimes they don't listen very well, but you just keep saying it — just like I tell my kids — and you have to repeat it over and over and over again and hopefully maybe it sinks in."
Tom Brady made his first public appearance with Jim Gray on May 7, 2015 at Salem University since the Wells report was released. In the video, Brady speaks about the controversy and how he feels.
Brady is now awaiting word from U.S. District Judge Richard M. Berman in New York on the appeal of his four-game suspension. The NFL ruled that he conspired with ball boys in tampering with the football used in New England's AFC Championship Game win over the Indianapolis Colts in January. The judge is expected to rule this week.
Sports Speakers 360 is a booking agent for motivational sports speakers. If you are interested in booking pro athletes for a speaking engagement, personal appearance or product endorsement, call 1.855.303.5450