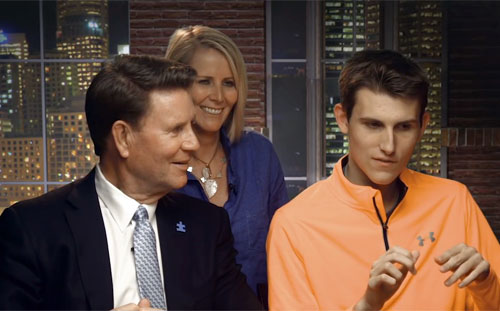 HUFFINGTON POST – Hall Of Famer Jim Palmer is featured in the following moving story by Roy Firestone about his step son, Spencer, who has autism. Words cannot describe the deeper message. Please watch this uplifting video about love and how a difficult situation in life can bring about such a positive change. The story is about Jim Palmer's family with his wife Susan and their 19-year-old son Spencer and about autism in the U.S.
According to the Huffington Post article, Spencer is somewhat high functioning person with autism who is also a savant about trains:
"Spencer happens to have autism. … He is a very happy person, and somewhat high functioning. Interestingly, he is a savant about trains. … Not all citizens with autism are savants of course, though the film 'Rain Man' might've implied that is the case."
The article points out these sobering facts about autism:
Nearly 4 million Americans are affected by autism
It is the fastest growing developmental disability in the U.S.A.
Nearly 1 of 45 children are somewhere on the autism spectrum
It costs the U.S. nearly a quarter of a trillion in care, treatment and lost wages
Jim Palmer is a retired pitcher who played all of his 19 years in Major League Baseball with the Baltimore Orioles. He was elected to the Baseball Hall of Fame in 1990. Palmer was the winning pitcher in 186 games in the 1970s who has also won at least twenty games in each of eight seasons and received three Cy Young Awards and four Gold Gloves during the decade. His 268 career victories are currently an Orioles record. A six-time American League (AL) All-Star, he was also one of the rare pitchers who never allowed a grand slam. Since his retirement as an active player in 1984, Palmer has worked as a color commentator on telecasts of MLB games for ABC and ESPN and for the Orioles on Home Team Sports (HTS), Comcast SportsNet (CSN) Mid-Atlantic and the Mid-Atlantic Sports Network (MASN).
Sports Speakers 360 is a booking agent for pro athletes. If you would like to book Jim Palmer for a speaking engagement, appearance or endorsement, contact a Mariano Rivera booking agent for fees at 1.855.303.5450.