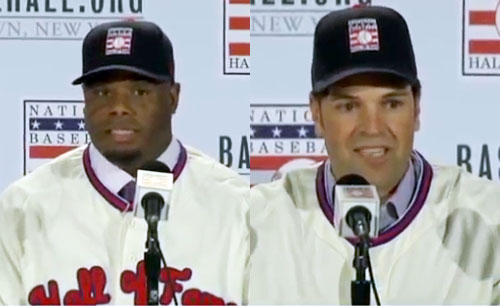 COOPERSTOWN, NY – Ken Griffey Jr. and Mike Piazza delivered emotional induction speeches at the ceremony for their enshrinement into the Baseball Hall of Fame. The ceremony was before a crowd of an estimated 50,000 fans and took place on Sunday, July 24, 2016. The event was held at the Clark Sports Center, 124 County Road 52, Cooperstown, NY 13326. Source: New York Times
The New York Times article pointed out that this was the biggest turnout since Cal Ripken Jr. and Tony Gwynn were inducted in 2007 and mentioned some of the highlights of the players' careers:
"The turnout was the most since more than 75,000 attended the inductions of Tony Gwynn and Cal Ripken Jr. in 2007. … Griffey, whose brilliant career featured 630 home runs and a long highlight reel of spectacular catches, and Piazza, the 62nd-round draft pick who overcame skeptics who could not foresee he would become the greatest offensive catcher in baseball history."
Ken Griffey Jr. is a retired MLB outfielder who played for the Seattle Mariners & Cincinnati Reds. Ken Griffey, Jr., nicknamed "Junior" and "The Kid", is a former MLB outfielder who played 22 years for three teams from 1989–2010. He spent most of his career with the Seattle Mariners and Cincinnati Reds, and also played for a short time with the Chicago White Sox. Griffey, Jr. is a 13-time All-Star and considered one of the most prolific home run hitters in baseball history with 630 home runs to his name.
Mike Piazza is a former Major League Baseball catcher who played for the Los Angeles Dodgers, Florida Marlins, New York Mets, San Diego Padres and Oakland Athletics. Piazza is a 2016 Hall of Fame inductee and 12-time All-Star who is often regarded as the best-hitting catcher of all time. Piazza also holds the record for home runs hit by a catcher with 396 (with a career total of 427).
Sports Speakers 360 is a booking agent for pro athletes. If you would like to book athletes like Ken Griffey, Jr. or Mike Piazza for a speaking engagement, appearance or endorsement, contact a Ken Griffey, Jr. or Mike Piazza booking agent for fees at 1.855.303.5450.