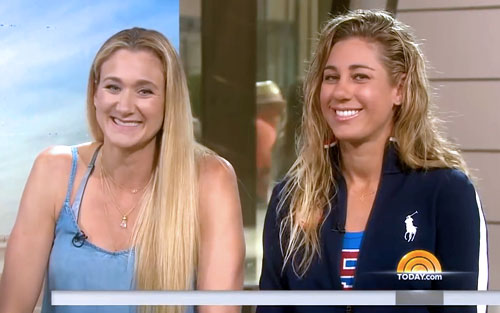 RIO DE JANEIRO, BRAZIL – Three time Olympic Gold Medalist, Kerri Walsh Jennings is aiming for a fourth gold medal in women's beach volleyball in the 2016 Olympic Games. Walsh Jennings has won her most recent gold medal with her previous partner, Misty May-Treanor in the last Olympic Games in 2012. May-Treanor has since retired and Walsh Jennings' new partner is April Ross. Source: FIVB (Federation Internationale De Volleyball)
The games are set to open in Rio De Janeiro and Walsh Jennings will be going for the gold medal with her new partner, April Ross in the same event.
According to the FIVB article, Walsh Jennings and May-Treanor won the Gold in consecutive Olympic Games in 2004, 2008 and 2012:
"Four years ago Kerri Walsh Jennings added another Olympic gold to her collection as she and Misty May-Treanor topped the podium at London 2012, having done so at Athens 2004 and Beijing 2008"
Kerri Walsh Jennings is an American professional beach volleyball player. Walsh Jennings and teammate Misty May-Treanor were the gold medalists in beach volleyball at the 2004, 2008, and 2012 Summer Olympics. At the 2004 Summer Olympics, Walsh and Misty May-Treanor won the gold medal in women's beach volleyball without losing a single set. They have been called "the greatest beach volleyball team of all time."
Sports Speakers 360 is a booking agent for pro athletes. If you would like to book Magic Johnson for a speaking engagement, appearance or endorsement, contact a Magic Johnson booking agent for fees at 1.855.303.5450.