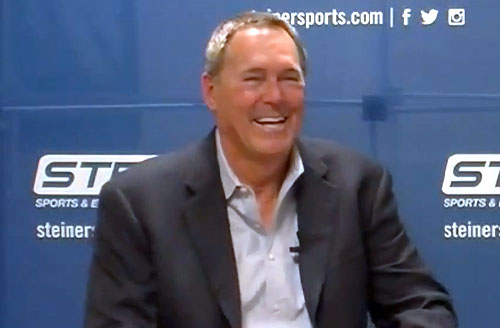 SAN JOSE, CA – Join Former San Francisco 49ers wide receiver and two time Super Bowl Champ Dwight Clark at San Jose, CA autograph signing on Saturday, December 10, 2016. Dwight Clark will make an appearance to meet and greet fans and sign autographs and memorabilia some time between 9:00 a.m. to 9:00 p.m. (time to be announced). The event will take place at World of Sports Memorabilia, 82 South Montgomery Street, San Jose, CA 95110. Source: World of Sports Memorabilia
Dwight Clark Prices:
Any Item Autographed by Dwight: $59
Autographed, inscription, the Play: $159
According to the World Of Sports Memorabilia Facebook page for the event, Joe Montana will also be there and the host is offering dual photo op with a dual autograph:
DUAL PHOTO OP: $240
DUAL AUTOGRAPHED: $240
Tickets are on sale. For more information please contact the host at info@worldofsportsmem.com or call 408-286-2151.
Dwight Clark was a wide receiver for the San Francisco 49ers from 1979 to 1987. Clark's most memorable touchdown came in the 1982 NFC Playoffs against the Dallas Cowboys. The 49ers were trailing 27-21 in the final minute of play. Clark caught that "Hail Mary" from Montana in the back of the end zone to give the 49ers a 28-27 victory. That play is one of the most famous in NFL history and has been immortalized as "The Catch". Clark finished the game with eight receptions for 120 yards and two touchdowns.
Sports Speakers 360 is a booking agent for pro athletes. If you would like to book Dwight Clark for a speaking engagement, appearance or endorsement, contact a Dwight Clark booking agent for fees at 1.855.303.5450.