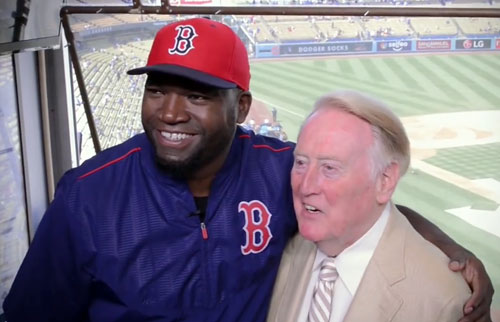 BRAINTREE, MA – MLB All-Star David Ortiz will appear in Braintree, MA Saturday, August 13, 2016 for an autograph signing event and to meet and greet fans. Ortiz will be available to sign autographs 11:00 a.m. to 12:30 p.m. The event will take place at New England Picture 250 Granite Street #15 Braintree, MA, 02184. Source: Crave The Auto
Tickets can be purchased at the New England Picture website
Pricing:
$249 Flats up to & including 16×20/Baseballs
$299 Premium larger than 16×20/All equipment/Bats/ Jerseys (no jersey #'s)
$399 Artwork/Lithos/Giclees (No original artwork)
$79 Inscription (up to 3 words only)
David Ortiz, nicknamed "Big Papi", is a former Dominican MLB baseball player who played with the Boston Red Sox. Ortiz was mostly a designated hitter, but sometimes he played at first base. Ortiz played with the Minnesota Twins from 1997 until 2002. Ortiz is an eight-time All-Star and holds the Red Sox single season record for home runs in a regular season with 54, set during the 2006 season. In 2005, Red Sox ownership presented him with a plaque proclaiming Ortiz "the greatest clutch-hitter in the history of the Boston Red Sox". He is one of 50 MLB players in history to hit at least 400 career home runs.
Sports Speakers 360 is a booking agent for pro athletes. If you would like to book David Ortiz for a speaking engagement, appearance or endorsement, contact a David Ortiz booking agent for fees at 1.855.303.5450.