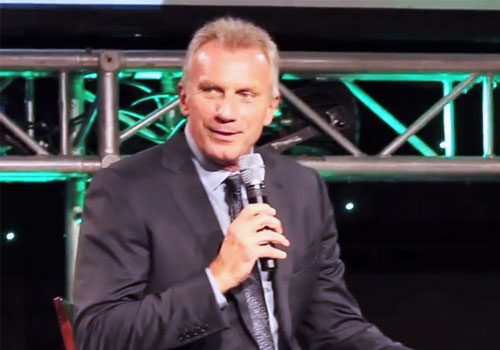 SPRINGFIELD, MO. — San Francisco 49ers legendary quarterback, Joe Montana, was the guest speaker on Thursday, June 4, 2015 at the 2015 Best of SW Missouri Preps held at the University Plaza Hotel and Convention Center. The event was presented by the News-Leader. The three-time MVP Super Bowl Champ talked before the program about the best lessons he could give the youngsters in attendance — who amounted to about the top 2 percent of the high school student-athletes in southwest Missouri … and that lesson had little to do with sports. Source: USA Today.
"Like that one commercial says, 99 percent of us are going to turn professional, but just not in our sport," Montana said. "That's really the key — sports gives you some wonderful lessons in life. The best thing to do is strive to get to college and get that education… Because even if you do have a long (athletic) career like myself, there's a lot of time from the time you retire until the end of your life. You'll fall back on that education and use it more than anything else."
Lighthouse Christian Chargers, Christopher Jones, received the Courage Award and had arguably the most inspirational story among all the honorees which brought nearly 1,000 people to the event. Jones, who was diagnosed with and defeated testicular cancer, missed only three games before returning to help the Chargers to a repeat championship. And he has the all-clear from his doctors to continue his career at the college level.
"It's amazing," Jones said of his award and the scene at the event. "I praise the Lord for it, and I'm very humbled and honored to be recognized in this way, and all the glory goes to God and everybody who supported me — my team, the Chargers organization, my family, friends, everybody."
It was a big night from start to finish, and having Montana included in the festivities only made it bigger. "This was beyond my expectations for what this night could turn out to be," said News-Leader President Dan Norselli. "It started out as just an idea, a vision. We knew we wanted to recognize the athletes and the community and the support that they have provided them, but this has gone above and beyond what I thought it was going to turn out to be."
Joe Montana, believed by many to be the greatest QB in NFL history, played for the San Francisco 49ers and Kansas City Chiefs. During his 14 years with the 49ers, Montana started and won four Super Bowls and was the first player ever to have been named Super Bowl MVP three times. He also holds Super Bowl career records for most passes without an interception (122 in 4 games) and the all-time highest quarterback rating of 127.8. He was elected to the Pro Football Hall of Fame in 2000, his first year of eligibility. In 1999, ESPN named Montana the 25th greatest athlete of the 20th century. In 2006, Sports Illustrated rated him the number one clutch quarterback of all-time.
Sports Speakers 360 is a booking agent for motivational sports speakers. If you would like to book pro athletes or NFL stars like Joe Montana for a speaking engagement or appearance, please contact Joe Montana's booking agent for speaker fee information. For details on how to hire San Francisco players for appearances, call 1.855.303.5450.