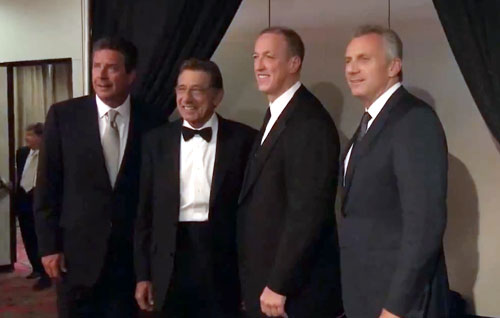 PITTSBURGH, PA. — On Saturday, June 6, 2015, six Hall of Fame quarterbacks Dan Marino, Jim Kelly, Joe Montana, Joe Namath, George Blanda and Johnny Unitas, were honored at an event called Gridiron Gold at the Wyndham Grand. Western PA is known for the large number of NFL players that have come from the area. Since 1953, there have been 23 total quarterbacks inducted into the Hall of Fame. Out of those 23, six are from Western Pa. Source: KDKA.
Marino talked with KDKA about how he was excited to see his fellow quarterbacks. He also talked about Jim Kelly's battle with cancer and what it was like to see him at his golf tournament. "It was an emotional weekend for him and all the people up there that come to his tournament because he missed last year's tournament because of his health."
Marino also spoke about Ben Roethlisberger and the Steelers. "I think he's excellent. When you take a look at his career, coming in as a young player, they had a pretty good football team when he was young. He won a couple Super Bowls, and the way he was able to continue to develop over time. He is one of the best players at that position."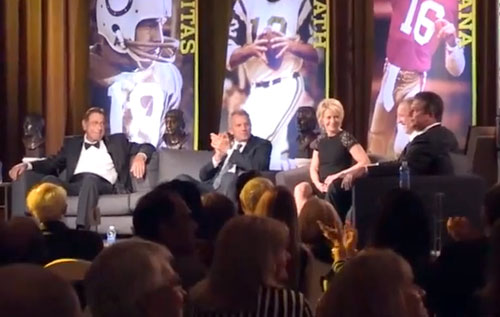 Dan Marino is a nine-time Pro Bowler (1983-87, 1991-92, 1994-95) who played in 18 post-season playoff games and led the Miami Dolphins to the Super Bowl in 1985 against the San Francisco 49ers. Marino won the Dolphins MVP Award 12 times and the team has since named the award after him. Hall of Famer Dan Marino played his entire career for the Miami Dolphins and is considered one of the most prolific passing quarterbacks in NFL. He is currently a Special Advisor for the Owner and CEO of the Miami Dolphins and is a popular motivational speaker.
Sports Speakers 360 is a booking agent for pro athletes. If you would like to book Dan Marino for a speaking engagement, appearance or endorsement, contact Dan Marino 's booking agent for fees at 1.855.303.5450.