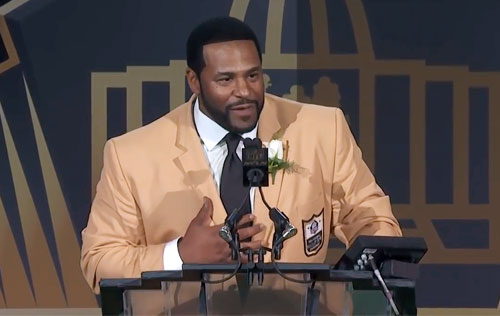 DEARBORN, MI – Former Pittsburgh Steeler half back and Super Bowl champ Jerome Bettis was the keynote speaker at the 35th annual Ford-employees African Ancestry Network (FAAN) event on Friday, Feb 26, 2016 in Dearborn, Michigan. The event was held at the Henry Autograph Collection Hotel in Dearborn. Source: RollingOut.com.
There was a sports related theme for the event this year in which some of Detroit's greatest sports legends were honored by the hosts. In Jerome Bettis's keynote address he reflected on what made him great. He gave a profound speech as he spoke about his influential years in Detroit and about those who helped him reach the peak of his sport. Follwing is a brief part of what he talked about:
"I stand before you a product of my environment, … When I say environment, a lot of people think 'OK, he grew up in Detroit and it's rough and it's difficult.' Yes, it was difficult. But the environment that I speak of was the environment of love and caring and wanting to do for others."
Jerome Bettis, nicknamed "The Bus," is a former NFL halfback who played for the St. Louis Rams and Pittsburgh Steelers. Bettis is sixth on the list of NFL rushing yards leaders. He retired in 2006 after the Steelers won Super Bowl XL in his native Detroit, Michigan. Bettis is a commentator for the NFL Network and a former NBC studio analyst for Football Night in America.
Sports Speakers 360 is a booking agent for pro athletes. If you would like to book Jerome Bettis for a speaking engagement, appearance or endorsement, contact a Jerome Bettis booking agent for fees at 1.855.303.5450.