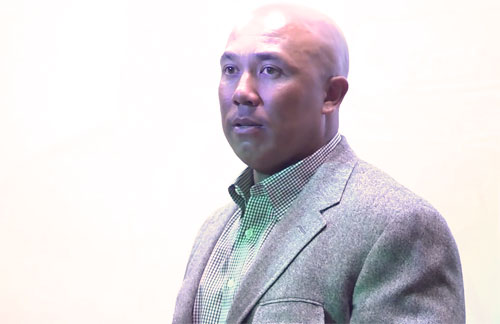 FT. COLLINS, CO. — Former Steelers wide receiver, Hines Ward, was the keynote speaker on Monday, April 6, for CSU's Asian/Pacific Islander Awareness Month. The two-time super bowl champion, touched upon racial inclusion and the difficulties he had to overcome growing up half black, half Korean, but focused mainly on football.
Head coach Mike Bobo brought his old teammate in to speak to a room full of 200 Colorado State Rams.
The Super Bowl XL MVP told the crowd, "Trust in your coaches. They're trying to get to where you guys want to go. Plan for the championship game…. There's no work environment where you're going to go from an all time high to an all time low… so enjoy the moment and cherish the times that you have. Bobo and I went through a lot of years. You guys are going to have to make a legacy of your own here at CSU."
In closing, Ward gave some inspirational words of advice, "I just want to thank you guys. I wish you nothing but the best, but remember build the mental substance, hold your will on your opponent, don't take crap from anyone. Hard work beats talent. Talent doesn't work hard. You can apply that to whatever you want to do in life. I was never going to let the next man outwork me. That's how you're going to build a championship team…"
Watch the video
Source: The Coloradoan.
Hines Ward is a retired wide receiver who played fourteen seasons for the Pittsburgh Steelers. He played college football at the University of Georgia. The Pittsburgh Steelers chose him in the third round of the 1998 NFL Draft, and became the team's all-time leader in receptions, receiving yardage and touchdown receptions. Ward was voted MVP of Super Bowl XL, and upon retirement was one of only eight NFL players to have 1,000 or more career receptions. Besides his career in the NFL, Ward also appeared on the reality TV series Dancing With The Stars where he won the Mirror Ball Trophy. He is currently a studio analyst for NBC's Football Night in America.
Sports Speakers 360 is a booking agent for motivational sports speakers. If you would like to book pro athletes or NFL stars like Hines Ward for a special event, please contact Hines Ward's booking agent for speaker fee information. For details on how to hire Pittsburgh Steelers players for appearances, call 1.855.303.5450