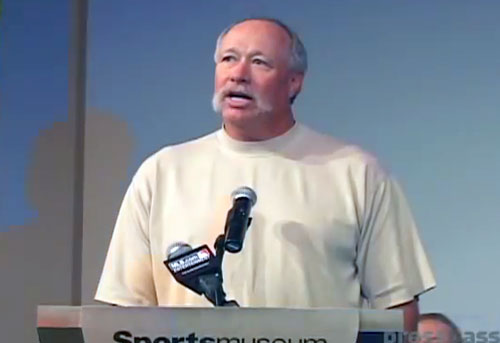 STATEN ISLAND, NY – Hall of Fame pitcher Goose Gossage will make an appearance and sign autographs on the day of the Staten Island Yankees vs. Brooklyn Cyclones minor league game, Saturday, June 18, 2016. The autograph signing is scheduled for 10:00 a.m. and game will occur at 7 p.m. Both will take place at the Richmond County Bank Ballpark in St. George, 75 Richmond Terrace, Staten Island, NY 10301. This will be the first home game of the New York-Penn League season. Source: silive.com
The autograph line is scheduled to occur between 10:00 a.m. and 12:00 noon according to the silive.com article and anyone who buys a ticket to any Staten Island home game will get access to it:
"Fans who purchase a ticket to any Staten Island home game will get access to the hard-throwing closer's autograph line. Season-ticket holders will receive a free voucher and have early access to the autograph line."
Gossage is also scheduled to be helping the ball club with a ticket-sales campaign a week before the game.
Goose Gossage is a former MLB right-handed relief pitcher. During a 22-year baseball career (from 1972-1994), he pitched for nine different teams, spending his best years with the New York Yankees and San Diego Padres. The nickname "Goose" came about when a friend did not like his previous nickname "Goss", and noted he looked like a goose when he extended his neck to read the signs given by the catcher when he was pitching. Although otherwise known as "Rich" in popular media, a baseball field named after him bears the name "Rick". Gossage was one of the few pitchers who employed basically just one pitch, a fastball.
Sports Speakers 360 is a booking agent for pro athletes. If you would like to book Goose Gossage for a speaking engagement, appearance or endorsement, contact a Goose Gossage booking agent for fees at 1.855.303.5450.