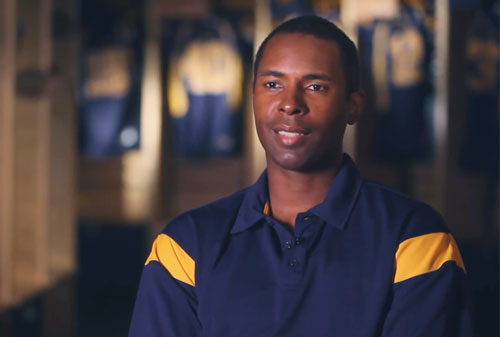 PASADENA, CA – Former NBA Star, College Heisman Trophy Winner and College Football Hall of Famer Charlie Ward appeared with other Heisman Trophy winners in July 2016 at an ESPN taping at the Rose Bowl in Pasadena, CA. The event was to film Nissan Heisman House commercials scheduled to air during this season's ESPN college football games. Source: Pensacola News Journal
According to the Pensacola News Journal article, at the gathering of football royalty at the Rose Bowl that day even though Bo Jackson played two professional sports, Ward was the only one who had the distinction of being first round draft pick for the NBA:
"Of all Heisman Trophy winners, Ward has distinction of being the only one to take his two-sport stardom into being a first round draft pick in the NBA. Bo Jackson, of course, became a star in both the NFL and major league baseball."
Charlie Ward is a retired American professional NBA basketball player, college football Heisman Trophy winner, Davey O'Brien Award winner and a Major League Baseball draftee. Charlie Ward excelled in both college football as well as basketball and ultimately chose the NBA for a professional basketball career when he was drafted by the New York Knicks in the 1st round in 1994. Ward is considered one of the best all-around athletes in the last quarter century. He was inducted in the College Football Hall of Fame with Emmitt Smith and Bobby Bowden in 2006.
Sports Speakers 360 is a booking agent for pro athletes. If you would like to book Charlie Ward for a speaking engagement, appearance or endorsement, contact a Charlie Ward booking agent for fees at 1.855.303.5450.