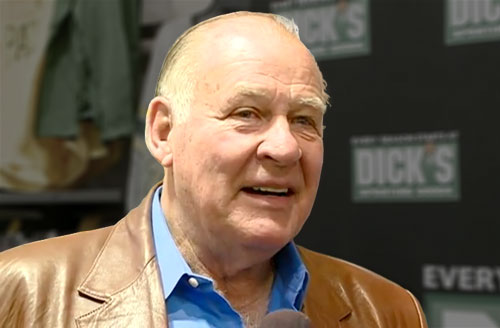 MILWAUKEE, WI – Meet two-time Super Bowl champion and former Green Bay Packers great Jerry Kramer at the Wisconsin Sports Collectors Association Show autograph signing on Sunday, June 11, 2017. Jerry Kramer will make an appearance from 10:00 a.m. to 12:00 p.m. to meet and greet fans and sign autographs and memorabilia. The event will take place at Gonzaga Hall, 1441 S. 92nd Street, Milwaukee, WI 53214. Source: Wisconsin Sports Collectors Association
Pricing:
Autographs: $20 each
Inscriptions: $5 each
According to the Wisconsin Sports Collectors Association website, autographs are all on a cash only basis and a limited number of pictures and mini helmets will be available for $20 each:
"Former Green Bay Packers great JERRY KRAMER will be signing autographs at our June 11th show. Jerry will be signing from 10 – 12. Autographs will be $20 each and Inscriptions are $5 each; all on a cash only basis. We will have limited number of pictures available and mini helmets for $20 each as well."
Admisssion to the show is only $1 or $8 for a one-year family membership:
Jerry Kramer is a former NFL offensive guard who played for the Green Bay Packers from 1958–1968. Kramer played football before and at the beginning of the era of the Super Bowl. He is a five-time NFL champion for 1961, 1962, 1965–1967 plus he is a two-time Super Bowl champion for Super Bowls I and II. This was the era when the Green Bay Packers, under the leadership of Vince Lombardi, dominated professional football and defeated the Dallas Cowboys two years running in Super Bowls I and II for the 1966 and 1967 seasons. Kramer was inducted into the Green Bay Packers Hall of Fame in 1975.
Sports Speakers 360 is a booking agent for pro athletes. If you would like to book Jerry Kramer for a speaking engagement, appearance or endorsement, contact a Jerry Kramer booking agent for fees at 1.855.303.5450.