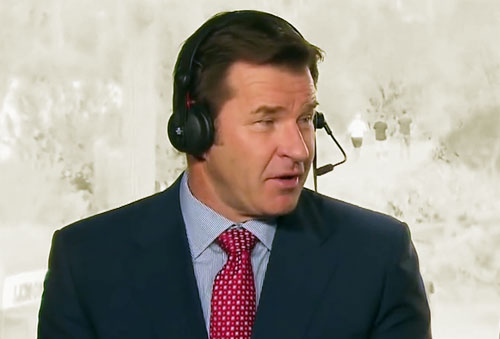 NAPERVILLE, IL – British golfing great and network golf analyst Nick Faldo will make a celebrity guest appearance at the 23rd Annual President's Invitational Golf Outing on August 21,2017. The purpose of the fundraiser is to benefit student scholarships. The event will take place from 10:00 a.m. to 8:00 p.m. at the White Eagle Golf Club, 3400 Club Dr., Naperville, IL 60564. Source: Benedictine University
Golf Schedule:
10:00 a.m. Registration
12:00 p.m. Shot Gun Start
5:00 p.m. Cocktail Hour
6:00 p.m. Dinner & Program
According to the Benedictine University website, British golfing great and lead analyst, Nick Faldo will position for CBS and the Golf Channel:
"Come see golfer Nick Faldo, British golfing great and now lead analyst positions for two of the principal American broadcasters of PGA Tour golf – CBS and the Golf Channel!"
Nick Faldo is a British golf champion and lead golf analyst for CBS Sports. Faldo is a nine-time PGA Tour winner as well a thrity-time European Tour winner. Faldo was the European Tour Order of Merit winner for 1983 and 1992 plus he was named European Tour Golfer of the Year for 1989, 1990 and 1992. Faldo was also named European Tour Rookie of the Year for 1977 as well as PGA Player of the Year for 1990. Faldo was inducted into the World Golf Hall of Fame in 1997. From 2004 to 2006 Faldo became a broadcaster for ABC Sports' PGA Tour coverage and in 2006 Faldo signed a contract with CBS to be the network's lead golf analyst. Nick Faldo was made a Knight Bachelor in 2009 for his services to golf.
Sports Speakers 360 is a booking agent for pro athletes. If you would like to book Nick Faldo for a speaking engagement, appearance or endorsement, contact a Nick Faldo booking agent for fees at 1.855.303.5450.