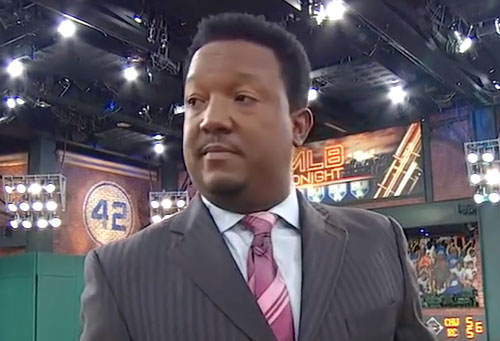 WORCESTER, MA – World Series champion Pedro Martinez has been named as the keynote speaker for the innaugural Best of Hometeam All-Stars Awards Banquet to be held on Thursday, June 22, 2017. The legendary Boston Red Sox pitcher will make an appearance between 6:00 p.m. to 9:00 p.m. and deliver the keynote address plus lead a question and answer session about lessons and memories during his career. The event will be hosted by the Worcester Telegram & Gazette and will take place at the DCU Center, 50 Foster St, Worcester, MA 01608. Source: Telegram & Gazette
The event is sponsored by UMass Memorial Health Care and Worcester Railers HC. According to the Telegram & Gazette article, general admission tickets are available for $50 each. The doors will open at 6:00 p.m. and the event will start at 6:30 p.m.
"Doors open at 6:00pm. Event starts at 6:30pm. General admission tickets may be purchased for $50. General admission ticket includes dinner, awards ceremony, and presentation by speaker. General admission seating is first come, first served in proximity to speaker."
Pedro Martinez is a former MLB pitcher who played for the Los Angeles Dodgers from 1992–1993, the Montreal Expos from 1994–1997, the Boston Red Sox from 1998–2004, the New York Mets from 2005–2008 and the Philadelphia Phillies in 2009. Martinez is a World Series champion for 2004 plus he is an eight-time All-Star for 1996–2000, 2002, 2005 and 2006. Martinez is a three-time Cy Young Award winner for 1997, 1999 and 2000 plus he is the MLB wins leader plus Triple Crown winner for 1999. Martinez also is a three-time American League strikeout leader for 1999, 2000 and 2002 plus five-time MLB ERA leader for 1997, 1999, 2000, 2002 and 2003. Pedro Martinez was inducted into the Baseball Hall of Fame in 2015 plus his number 45 was retired by the Boston Red Sox in 2015.
Sports Speakers 360 is a booking agent for pro athletes. If you would like to book Pedro Martinez for a speaking engagement, appearance or endorsement, contact a Pedro Martinez booking agent for fees at 1.855.303.5450.