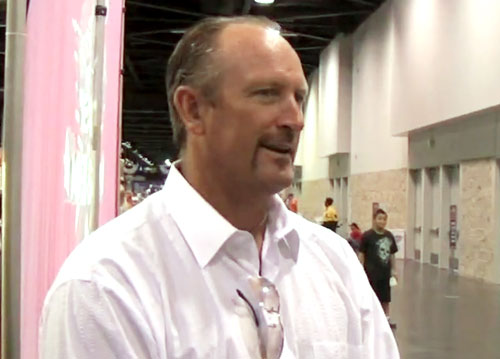 HEMPSTEAD, NY – World Series Champ Bret Saberhagen will be at an autograph signing in Hempstead, NY on Saturday, October 21, 2017. Bret Saberhagen will make an appearance from 12:00 p.m. – 1:30 p.m. to meet and greet fans and sign autographs and memorabilia at the The Long Island National sports memorabilia show. The event will take place at Hofstra University – David Mack Center, 100 Hofstra Blvd, Hempstead, NY 11549. Source: JP's Sports and Rock Solid Promotions
Pricing:
Any Item: $39 (includes one free inscription)
Additional Inscription: $20
According to the JP's Sports and Rock Solid Promotions website there will be random free autograph tickets for autographs at the show:
"Random Free Autograph Tickets for Autographs at the show."
Saturday show time is from 10:00 a.m. to 5:00 p.m. Admission: Adult $10.00 per day Kids under 12 are FREE.
Bret Saberhagen is a former MLB pitcher who played for the Kansas City Royals from 1984–1991, the New York Mets from 1992–1995, the Colorado Rockies in 1995 and the Boston Red Sox from 1997–1999 plus 2001. Saberhagen is a World Series champion plus World Series MVP for 1985 as well as a three-time All-Star for 1987, 1990 and 1994. Saberhagen also is a two-time AL Cy Young Award winner for 1985 and 1989 plus he is a Gold Glove Award winner for 1989. Bret Saberhagen was inducted into the Kansas City Royals Hall of Fame in 2005.
Sports Speakers 360 is a booking agent for pro athletes. If you would like to book Bret Saberhagen for a speaking engagement, appearance or endorsement, contact a Bret Saberhagen booking agent for fees at 1.855.303.5450.