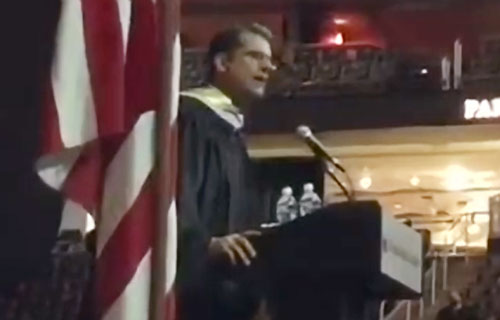 NEWARK, NJ – University of Michigan football coach Jim Harbaugh delivered the commencement speech to an audience of 411 graduating students at Paramus Catholic High School in Newark, NJ on Thursday, June 9, 2016. The event was held at the Prudential Center, 25 Lafayette St, Newark, NJ 07102. Source: Detroit Free Press
According to the Detroit Free Press article, Harbaugh urged the students to dream big and to give off positive energy:
"Dream big," Harbaugh said. "Dream so big that you beg people to make fun of you. If people aren't making fun of you for the dreams you have, you're not dreaming big enough. … Be an individual and give off positive energy to get it back."
Jim Harbaugh is the former head coach of the San Francisco 49ers. He led the 49ers to Super Bowl XLVII where they lost against his brother John Harbaugh and the Ravens. He is currently the head football coach at the University of Michigan. He has been a football coach since 2004, and first served as a head coach in 2004 for the University of San Diego. After coaching Stanford football from 2007 to 2010, he became the 49ers head coach in 2011. Harbaugh led the team to a 11-4-1 record in the regular season, winning back to back NFC West titles.
Sports Speakers 360 is a booking agent for pro athletes. If you would like to book Jim Harbaugh for a speaking engagement, appearance or endorsement, contact a Jim Harbaugh booking agent for fees at 1.855.303.5450.