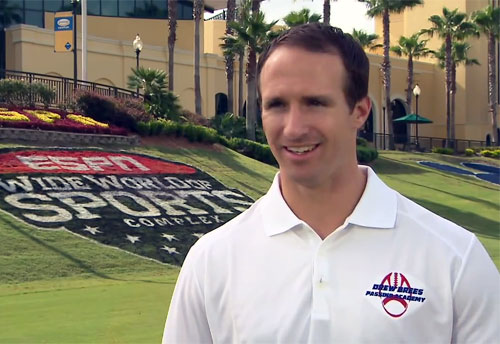 ORLANDO, Fla. — Join Drew Brees along with other NFL superstars Larry Fitzgerald, Patrick Peterson, Mark Ingram and more on June 25-27, 2015 at the ESPN Wide World of Sports Complex in Orlando, Florida powered by ProCamps. Founded in 2013, the Drew Brees Passing Academy & 7-on-7 tournament offers a competitive high school 7-on-7 competition and one-of-a-kind football camp for teams across the nation. For more info, click here.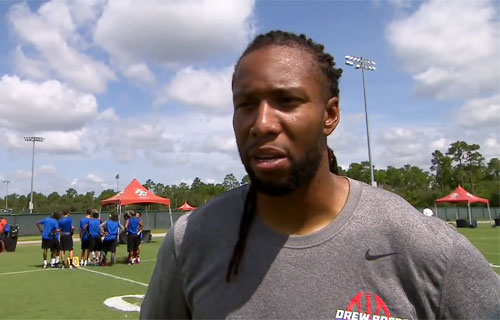 In June 2014, more than 300 high school athletes from across the country participated in the exclusive Drew Brees Passing Academy. These young athletes had the opportunity to learn from Brees and train with other NFL superstars such as Larry Fitzgerald (Arizona Cardinals), Darren Sproles (Philadelphia Eagles) and Darrelle Revis (New England Patriots). Participants were exposed to new training techniques for conditioning and performance, and then participated with team members in a two-day 7-on-7 Tournament. Proceeds from the Drew Brees Passing Academy and 7-on-7 Tournament benefit The Brees Dream Foundation, established in 2003 to help cancer patients with quality care and education for children and families.
Watch the video:
Each player will receive an elite apparel package. The winning team will receive a donation to the high school and its 2016 entry fee waived.
Day One – Passing Academy
World-class skill position instruction, led by some of the top professional players in the game
Opportunity to hold individual team instruction with input from the pros
All-Star position competitions to determine best-in-camp skills
ProTalk and Q&A with Drew Brees
Day Two – 7-on-7 Tournament
Opportunity to compete in five 7-on-7 games against teams from across the country
Day Three – Championship Saturday
Three game 7-on-7 tournament based on seeding determined from Day Two results
Teams separated into two divisions based on school size
Awards ceremony Winning team will receive a donation to the high school and its 2016 entry fee waived.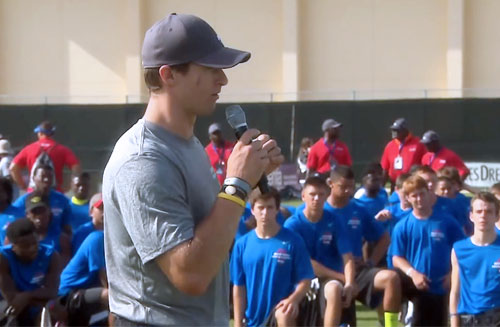 Player Gift Packages will include:
Gift Bag:
Nike Drawstring Bags
Nike Dri-Fit Shirts
Nike Dri-Fit Shorts
Power Balance Bands
Panini Rookie Trading Card Packs
Drew Brees Signed 5×7 Photos
AdvoCare Rehydrate
Rocksolid RS1 (7 on 7 soft helmet)
Prizes given away during camp:
Monster Headphones
Vintage Autographed Jerseys
Signed Copies of Drew Brees Book "Coming Back Stronger: Unleashing the Hidden Power of Adversity"
Signed Super Bowl XLVII Trading Cards with Patch
Super Bowl XLVII Trading Card Packs
Signed Drew Brees Poster
Signed Drew Brees Jerseys
Signed Larry Fitzgerald Jersey
Signed Mark Ingram Jersey
Signed Patrick Peterson Jersey
The Brees Dream Foundation has contributed more than $20,000,000 to charitable causes and academic institutions globally. It is proud to be a reliable and accountable charity solution. The Foundation will continue to challenge itself and its corporate partners to increase the impact they have on the lives of those in need.
Drew Brees is the current quarterback for the New Orleans Saints. He is a seven-time Pro Bowl selection, holds multiple NFL passing records, and led the Saints to a Super Bowl championship in 2010.
Sports Speakers 360 is a booking agent for pro athletes. If you would like to book Drew Brees for a speaking engagement, appearance or endorsement, contact Drew Brees booking agent for fees at 1.855.303.5450.