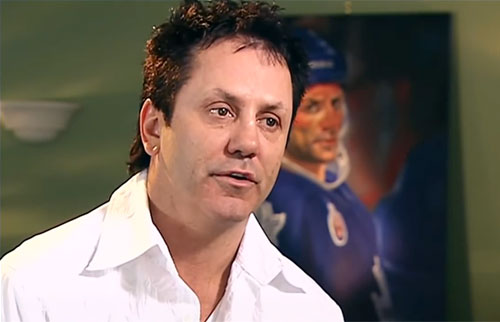 WHITCHURCH-STOUFFVILLE, ON, CANADA – Toronto Maple Leafs legend Doug Gilmour will be at an autograph signing at AJ Sports World in Ontario, Canada on Sunday, June 11, 2017. Doug Gilmour will make an appearance at 11:30 a.m. to meet and greet fans and sign autographs and memorabilia. The event will take place at Pro Wear Sports, 5946 Main St, Whitchurch-Stouffville, ON, L4A 1G5, Canada. Source: AJ Sports World
Pricing:
Regular Item: $40.00
Premium Item: $60.00
VIP Package: $349.00
According to the AJ Sports World website, the VIP package includes front of line access plus photo opportunity:
"VIP Package includes an autographed jersey, autographed 8×10 photo, photo opportunity and front of line access."
Doug Gilmour is a former OHL, NLA and NHL hockey player and current manager of the OHL Kingston Frontenacs. During his playing career Gilmour played in the OHL for the Cornwall Royals from 1981-1983. After that Gilmour played in the NHL for the St. Louis Blues from 1983-1988, the Calgary Flames from 1988-1992 and the Toronto Maple Leafs from 1991-1997. In the 1994-1995 season Gilmour also played in the NLA for the Rapperswil-Jona Lakers. Gilmour played for the NHL for the remainder of his career for the New Jersey Devils from 1996-1997, the Chicago Blackhawks from 1998-2000, the Buffalo Sabres from 1999-2001, the Montreal Canadiens from 2001-2003 and the Toronto Maple Leafs again from 2002-2003. Gilmour is a Stanley Cup winner for 1981.
Sports Speakers 360 is a booking agent for pro athletes. If you would like to book Doug Gilmour for a speaking engagement, appearance or endorsement, contact a Doug Gilmour booking agent for fees at 1.855.303.5450.