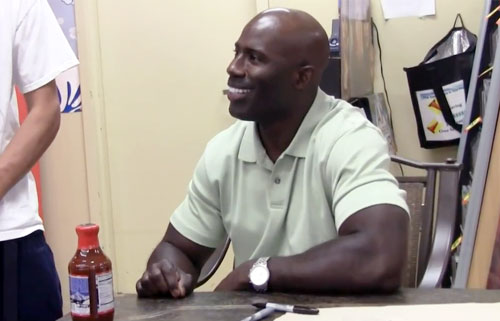 CHANTILLY, VA. — The CSA Show at Chantilly will take place for 3 days from Oct 9-11, 2015. Friday Admission is FREE, Saturday $8, Sunday $8 or Weekend Pass $15. Former Denver Broncos star running back and league MVP, Terrell Davis, will be there to meet and greet fans and sign autographs on Saturday Oct. 10, 2015 from 9am-5pm at the Dulles Expo Center located at 4320 Chantilly Shopping Center. Source: CSA Shows.
Terrell Davis autograph signing
$100 flat/minis
$120 premiums
1 free ins
each additional $25
Terrell Davis is a former NFL running back who played for the Denver Broncos from 1995 to 2001. Davis was drafted by the Broncos in the sixth round (196th pick overall) of the 1995 NFL Draft. Davis is the Denver Broncos all-time leading rusher, with 7,607 rushing yards. As a player, he was given the nickname "T. D." by players, fans and the media; this denoted both the initials of his first and last name as well as being an abbreviation for touchdown. Overall, Davis finished his 7 NFL seasons with 7,607 rushing yards, 169 receptions for 1,280 yards, and 65 touchdowns (60 rushing and 5 receiving). He and John Elway are the only two Broncos named league MVP.
Sports Speakers 360 is a booking agent for motivational sports speakers. If you would like to book pro athletes or NFL stars like Terrell Davis for a speaking engagement or appearance, please contact Terrell Davis's booking agent for speaker fee information. For details on how to hire Denver Broncos players for appearances, call 1.855.303.5450.