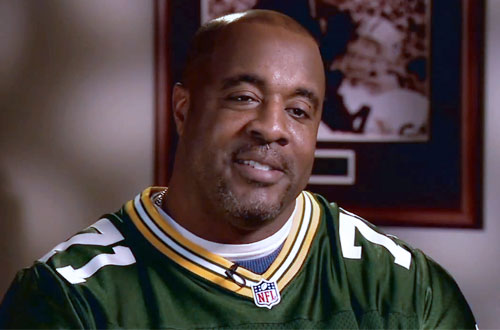 SHEBOYGAN, WI – Retired Packers defensive end Santana Dotson will be in Sheboygan, WI on Friday, July 28, 2017 to help raise funds for Children's Hospital of Wisconsin. Santana Dotson will make an appearance at the Miesfeld's Lakeshore Weekend from 6:00 p.m. to 8:00 p.m. to meet with the public at the fundraiser. The event is hosted by Miesfeld's Triangle Market and will take place at South Pier, Sheboygan, WI 53081. Souce: Facebook
According to the Facebook page for the event Santana Dotson will be in attendance along with former teammates Gilbert Brown, LeRoy Butler and Eugene Robinson:
"MEET PACKER GREATS Four Super Bowl XXXI Defenders Friday, July 28th, 2017 6:00pm to 8:00pm Santana Dotson #71 Gilbert Brown #93 LeRoy Butler #36 Eugene Robinson #41"
Santana Dotson is a former NFL defensive end who played for the Tampa Bay Buccaneers from 1992–1995, the Green Bay Packers from 1996–2001 and the Washington Redskins in 2002. Dotson is a Super Bowl champion for Super Bowl XXXI plus he was named Unanimous All-American for 1991.
Sports Speakers 360 is a booking agent for pro athletes. If you would like to book Santana Dotson for a speaking engagement, appearance or endorsement, contact a Santana Dotson booking agent for fees at 1.855.303.5450.