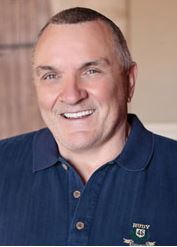 Former Notre Dame Football Rudy Ruettiger will speak about his journey to achieve his dream of playing football for the Fighting Irish at the SouthArk Lecture Series. The event is open to the public and will take place this upcoming Thursday October 11th at 7 pm at The El Dorado Conference Center at 311 S West Ave, El Dorado, AR 71730.  There is no cost to attend.
For more information on this event, please visit…
http://goeldorado.chambermaster.com/events/details/rudy-ruettiger-southark-lecture-series-9485
Rudy Ruettiger is best known as the inspiration for the 1993 motion picture "Rudy". He is also remembered as sacking Georgia Tech quarterback Rudy Allen within the last 27 seconds of the only play in the only game of his college football career, and was subsequently carried off the field by his teammates after the game. Today he is one of the most popular motivational speakers in the US.
PFP Sports & Celebrity Talent Agency is a speaker's bureau, booking agency and marketing company that represents organizations seeking to hire athletes, motivational speakers, inspirational speakers, celebrities or entertainers for personal appearances, speaking engagements, celebrity endorsements and spokesperson campaigns. If you would like to book Rudy Ruettiger for a speaking engagement, appearance or endorsement, contact a Rudy Ruettiger booking agent  for fees at 855-303-5450.