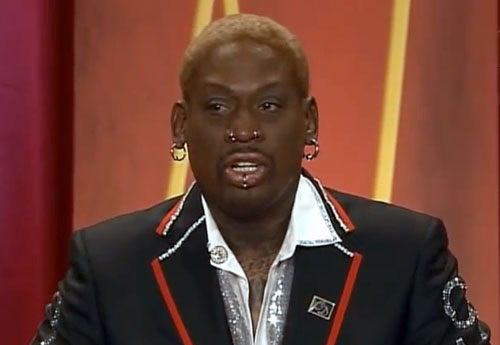 QUEENS, NY – Meet retired NBA power forward, five-time NBA Champion and Hall of Famer Dennis Rodman at the "Dennis Rodman The Return Of Rodzilla at The Big Event 12" pro-wrestling event on Saturday, March 4, 2017. Dennis Rodman will make an appearance at some time on or after 10:00 a.m. to meet and greet fans and sign autographs and memorabilia. The event will take place at the LaGuardia Plaza Hotel, 104-04 Ditmars Boulevard, Queens, NY 11369. Source: The Big Event
Pricing:
Autograph on 8×10 photos, cards or Children's Book: $40
Autograph on 16×20 photo or poster: $50
Autograph on Your Premium Item: $60 (Jersey, ball, belt, figurine or t-shirt)
Autograph on Our Action Figure: $65
Inscription: $20 ("7x King", "5x Champ", or "HOF 2011", NWO 4 Life)
"Selfie" w/ Dennis at Table: Add $20 to autograph price
Just a "Selfie" at table with Dennis Rodman No Signature $30
According to the web page for the event, Dennis Rodman's appearance time will be from Saturday, March 4 at 10:00 a.m. through early morning Sunday, March 5 at 1:00 a.m. For more information please contact the organizer via Eventbrite:
"DENNIS RODMAN THE RETURN OF RODZILLA at THE BIG EVENT 12 … Date and Time Sat, Mar 4, 2017, 10:00 AM – Sun, Mar 5, 2017, 1:00 AM EST"
Dennis Rodman is a retired NBA power forward who played for the Detroit Pistons from 1986 to 1993, the San Antonio Spurs from 1993 to 1995, the Chicago Bulls from 1995 to 1998, the Los Angeles Lakers in 1999, the Dallas Mavericks in 2000, the Long Beach Jam from 2003 to 2004, the Orange County Crush from 2004 to 2005, the Tijuana Dragons in 2005, the Torpan Pojat in 2005, the Tijuana Dragons from 2005 to 2006 and the Brighton Bears in 2006. Rodman is a five-time NBA champion for 1989, 1990 and 1996 through 1998. He is a two-time NBA Defensive Player of the Year for 1990 and 1991 plus seven-time NBA rebounding champion for 1992 through 1998. In 2011 Dennis Rodman was inducted into the Basketball Hall of Fame plus his number 10 jersey was retired by the Detroit Pistons.
Sports Speakers 360 is a booking agent for pro athletes. If you would like to book Dennis Rodman for a speaking engagement, appearance or endorsement, contact a Dennis Rodman booking agent for fees at 1.855.303.5450.