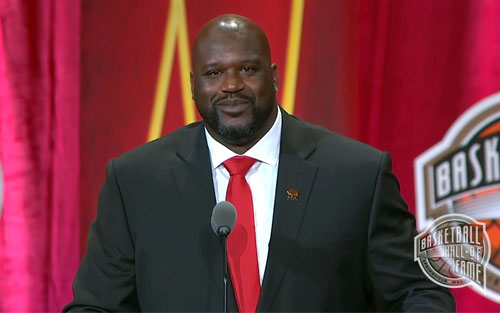 SPRINGFIELD, MA – Retired NBA center Shaquille O'Neal was inducted into Basketball Hall of Fame on Friday, September 9, 2016 in an induction ceremony which took place in Springfield, MA. He was honored along with fellow 2016 inductees which included Yao Ming and Allen Iverson. The ceremonial event took place at the National Basketball Hall of Fame, 1000 Hall of Fame Ave, Springfield, MA 01105 Source: NESN
O'Neal was famous for his massive strength and size but according to the NESN article he was able to run the floor, handle the ball plus he had an array of post move skills as well:
"O'Neal's massive strength and size certainly helped him crush opposing centers, but he also had very underrated skill, whether it was his array of post moves, ability to run the floor and even handle the ball in transition. He could play a finesse game when the situation warranted it."
Shaquille O'Neal is an retired basketball player, former rapper and current analyst on the television program Inside the NBA. He played for 6 teams throughout his 19-year career. O'Neal was first drafted into the NBA by the Orlando Magic with the first overall pick in the 1992 Draft. He won Rookie of the Year in 1992–93 and then became one of the top centers in the league, leading his team to the 1995 NBA Finals. After four years with Orlando, O'Neal signed as a free agent with the Los Angeles Lakers winning three consecutive championships in 2000, 2001, and 2002. O'Neal was traded to the Miami Heat in 2004, and his fourth NBA championship followed in 2006. he was traded to the Phoenix Suns midway through the 2007–2008 season then traded to the Cleveland Cavaliers in the 2009–10 season. He played for the Boston Celtics in the 2010–11 season before retiring. On April 2, 2013.
Sports Speakers 360 is a booking agent for pro athletes. If you would like to book Shaquille O'Neal for a speaking engagement, appearance or endorsement, contact a Shaquille O'Neal booking agent for fees at 1.855.303.5450.