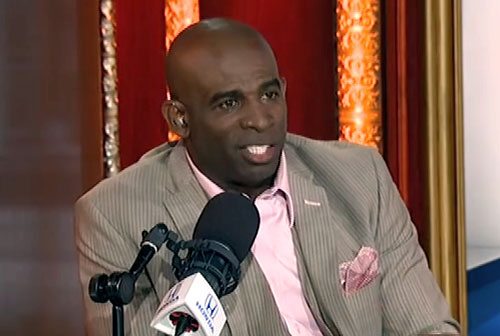 CHANTILLY, VA – Pro Football Hall of Famer Deion Sanders will make an appearance in Chantilly, VA for an autograph signing on Sunday, July 16, 2017. Deion Sanders will be there from 1:00 p.m. to 2:15 p.m. to meet and greet fans and sign autographs and memorabilia at The Show at Chantilly. The event will take place at the Dulles Expo Center, 4320 Chantilly Shopping Center Chantilly, VA 20151. Source: CSA Shows
Pricing:
Small Flat/BBs: $100
Large Flat: $125
Mini/Equip.: $125
Premium: $145
Inscription: $40 (Only HOF '11 or Prime Time)
Photo Op: $100
The CSA Shows website defines the various autograph signing items as small flats large flats mini items and premium items:
"Small flats are items that are 11×14 inches or smaller, such as cards, photos, books and magazines. Large Flats are items larger than 11×14 inches such as photos or posters. Mini items are mini helmets or mini basketballs. Premium items are full-size helmets, basketballs, footballs, bats or jerseys."
Deion Sanders is a former NFL cornerback who played for the Atlanta Falcons from 1989–1993, the San Francisco 49ers in 1994, the Dallas Cowboys from 1995–1999, the Washington Redskins in 2000 and the Baltimore Ravens from 2004–2005. Sanders is a two-time Super Bowl champion for Super Bowls XXIX and XXX plus he is an eight-time Pro Bowl selection for 1991–1994 and 1996–1999 as well as an eight-time First-team All-Pro for 1991–1994 and 1996–1999. Sanders was named NFL Defensive Player of the Year for 1994 plus he made the NFL 1990s All-Decade Team. Deion Sanders was inducted into the Pro Football Hall of Fame in 2011 as well as the College Football Hall of Fame in 2011.
Sports Speakers 360 is a booking agent for pro athletes. If you would like to book Deion Sanders for a speaking engagement, appearance or endorsement, contact a Deion Sanders booking agent for fees at 1.855.303.5450.