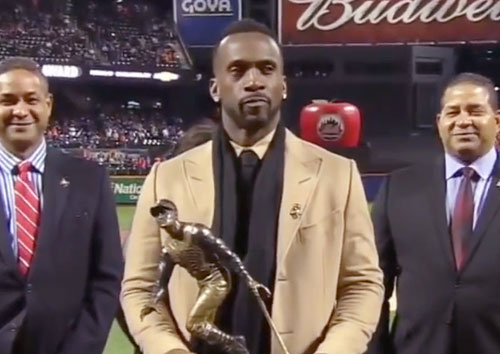 PITTSBURGH, PA. — On Friday, October 30, 2015 Pirates outfielder Andrew McCutchen was named the 2015 Roberto Clemente Award winner in a ceremony at Citi Field prior to Game 3 of the World Series, joining Willie Stargell as just the second Pirates player to win the award. The Commissioner's Award, given annually to the player who best represented the game of baseball on and off the field, was renamed in 1973 to honor Clemente. Source: Post Gazette.
McCutchen learned the Roberto Clemente story many years ago, long before being drafted by Clemente's former team, the Pirates, in 2005. When he was 11 or 12, McCutchen went to a baseball camp in San Juan, Puerto Rico, the city where Clemente was born and raised. There, McCutchen met Manny Sanguillen, the former Pirates catcher who played alongside Clemente, and heard the story of a Hall of Fame outfielder, the pride of Pittsburgh, who died in a New Year's Eve plane crash in 1972 while on a mission to deliver supplies to earthquake victims in Nicaragua.
"Andrew McCutchen, you are a great ballplayer both on and off the field, and Roberto would have been proud to see you standing up here today," Clemente's widow, Vera — the league's goodwill ambassador — said at the ceremony.
McCutchen, a five-time All-Star and former National League MVP, said it feels like Clemente still is "everywhere." Around the game, around the park, around the Pirates. The right-field wall at PNC Park, built 21 feet high to match Clemente's number, is named the Clemente Wall. Beyond the center-field wall, beyond a Clemente statue, is the iconic yellow Roberto Clemente Bridge. "I want to strive to be like he was," McCutchen said, "a person who would give you the clothes off of his back just to make this world a better place.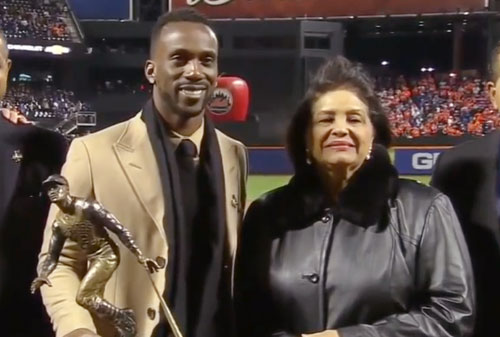 Despite never meeting Clemente, McCutchen knows Clemente's wife and sons well. He's heard countless stories from people around the game and around the community, too. McCutchen recounted a story Friday in which a young boy knocked on Clemente's door, clearly interrupting Clemente's night. Instead of shooing the boy away, Clemente invited him in, gave him a drink and signed a few things to send the boy on his way happy. "It's unbelievable to see the impact that he made," McCutchen said. "I can only hope that I can do at least half that he did. I know that if he was here I think he would say that as long as I'm doing something, that's what matters."
Bob Nutting, principal owner and chairman of the Pirates, was in New York Friday night to see McCutchen recognized. "I could not be more proud of Andrew for this well-deserved honor," Nutting said. "He is more than a dynamic player on the field and a leader in our clubhouse; he is a person who carries himself with high character and honor every day."
Sports Speakers 360 is a booking agent for pro athletes. If you would like to book Andrew McCutchen for a speaking engagement, appearance or endorsement, contact Andrew McCutchen's booking agent for fees at 1.855.303.5450.