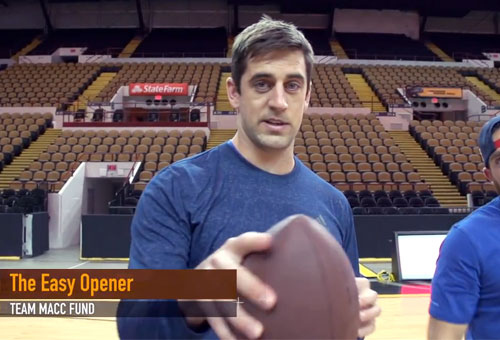 GREEN BAY, WI – It has been announced that Green Bay Packers quarterback, Aaron Rodgers, who appeared on "Celebrity Jeopardy!" last year, will also be appearing on the new TV game show, 'Big Fan'. The new show, whose air date has not yet benn announced, will feature one celebrity with three of his or her biggest fans in a competition to be the ultimate superfan. The show will air on ABC and will be hosted by Andy Richter. Source: ESPN
According to the ESPN article, Rodgers will be playing for his favorite charity:
"Rodgers will be playing on behalf of his favorite charity, Midwest Athletes Against Childhood Cancer. Since beginning his affiliation with the MACC Fund in 2010, Rodgers has helped raise more than $2.5 million to support its mission of funding research for and fighting childhood cancer and blood disorders."
Aaron Rodgers is best known as NFL quarterback for the Green Bay Packers who led his team to Super Bowl XLV victory in 2010 and was named Super Bowl MVP. On April 26, 2013, Rodgers extended his contract with the Green Bay Packers for five years and $110 million, which makes him the highest paid player in NFL history. Rodgers has also thrown for over 30 touchdowns in more than one season before the age of 30 which was only to have been accomplished by two others, Dan Marino and Bret Favre. Rodgers, who will receive $40 million in the first year, now surpasses Raven's quarterback Joe Flacco who signed a contract with Baltimore in March 2013 for a $120.6 million salary over six years. Aaron Rodgers is also a popular motivational speaker.
Sports Speakers 360 is a booking agent for pro athletes. If you would like to book Aaron Rodgers for a speaking engagement, appearance or endorsement, contact an Aaron Rodgers booking agent for fees at 1.855.303.5450.