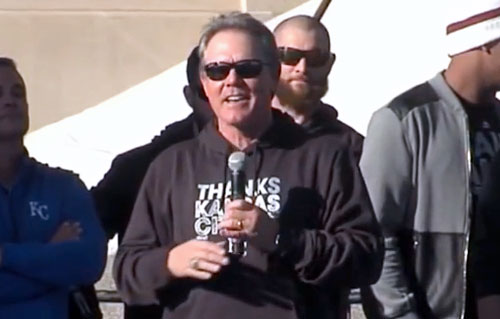 LEAWOOD, KS — Kansas City Royals manager Ned Yost is appearing on Thursday Nov 5 at Dick's Sporting Goods at Town Center Plaza in Leawood from 6-8 p.m.. This event is free of charge but wristbands will be distributed to the first 350 customers at the store. Distribution starts at 4 p.m. Source: Kansas City Star.
Ned Yost became the longest-tenured manager in Royals history. He became the winningest manager in club history after a 3-2 win over the Milwaukee Brewers on June 18, 2015. On the final day of the 2015 regular season, Yost's Royals clinched the best record in the American League at 95-67, giving Kansas City home field advantage throughout the playoffs, including the World Series by virtue of the AL's victory in the All-Star Game. The Royals would defeat the Houston Astros, Toronto Blue Jays and ultimately the New York Mets to bring Kansas City its first World Series championship since 1985, and Yost his first title as a manager.
Sports Speakers 360 is a booking agent for motivational sports speakers. If you would like to book pro athletes or MLB managers like Ned Yost for a speaking engagement or appearance, please contact Ned Yost's booking agent for speaker fee information. For details on how to hire Kansas City Royals players for appearances, call 1.855.303.5450.