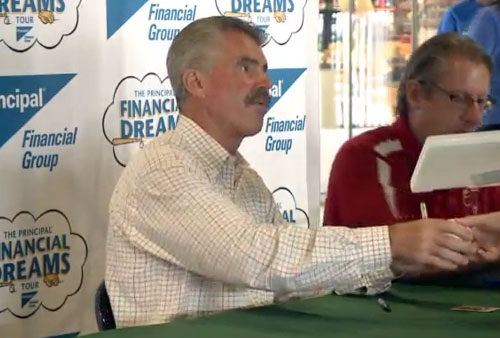 DES MOINES, IA – Join former Chicago Cubs great Bill Buckner at Des Moines, IA autograph signing on Friday, December 9, 2016. The event will be hosted by The Fergie Jenkins Foundation charity. Bill Buckner will make an appearance from 7:00 p.m. to 9:00 p.m. to meet and greet fans and sign autographs and memorabilia. The event will take place at MC Sports, 3850 Merle Hay Road, Des Moines, IA 50310. Source: MiLB.com
Pricing:
Autographed ball in a cube: $20 donation (includes photo op)
Customers' items: (Call or email for details, see below)
According to the MiLB.com article, Former Cubs pitcher, Lee Smith will also make an appearance on Dec 9th from 2:00 p.m.to 6:00 p.m. The host is offering a ball autographed in a cube by Lee and Bill plus a photo op for a $20 donation.
"For a $20 donation get a ball autographed in a cube by Lee and Bill … plus an opportunity to have your picture taken with the players. … A price list for customers' items will be available and those with questions can email fergiejenkins@bellnet.ca directly or call 716.866.9419."
Bill Buckner played 22 years in the Major Leagues, primarily for the Chicago Cubs and Boston Reds Sox. He had a lifetime batting average of .289 with 2,715 hits, 174 home runs, 498 doubles and 1,208 RBI's. He won one batting title and was named an All-Star in 1981. He is one of a small number of players who had 200 hit-seasons in both leagues and played in four decades. Originally promoted to the Majors as an outfielder, Buckner moved to first base when he joined the Cubs. At that position, he played 1,555 regular season games and committed only 128 errors in 13,901 chances. Buckner is also a Christian speaker.
Sports Speakers 360 is a booking agent for pro athletes. If you would like to book Bill Buckner for a speaking engagement, appearance or endorsement, contact a Bill Buckner booking agent for fees at 1.855.303.5450.