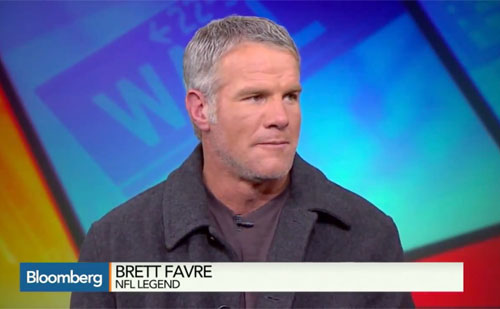 GREEN BAY, WI. — Former Green Bay Packers quarterback, Brett Favre, is scheduled to appear in a rare public autograph session in the Stadium District before his Packers Hall of Fame induction ceremony. The autograph session will take place Saturday, July 18, from 10 a.m. – 11:15 a.m. at D2 Sports Pub at 788 Armed Forces Drive in Green Bay. Packers legend Ron Wolf will also take part in the signing. The event is sponsored by Legends of the Field, a memorabilia service. Portions of the proceeds will go to the Favre 4 Hope foundation. Later that day, Favre will be inducted into the team's Hall of Fame at Lambeau Field. Source: wbay.com
The following day, Sunday, July 19, Brett Favre's Legends Game, presented by Hewlett Packard, will take place at historic Camp Randall Stadium in Madison, Wisconsin where the Super Bowl champ will take the field once again to celebrate his induction into the Green Bay Packers Hall of Fame. It is the ultimate flag football showdown between the most legendary Packers players and a team of NFL All-Stars. Fans of all ages will get a chance to be a part of history as some of the NFL's most iconic athletes compete once again. Kick-off for the game is at 4 p.m. Pre-game entertainment includes a flag football game between the local police department and local firefighters.
A portion of the proceeds from the event will benefit the Favre 4 Hope Foundation. This organization directly benefits several charities including Make A Wish, Special Olympics, Rawhide Boys Home, and Ribbon of Hope. For more information go to Favre 4 Hope. Tickets for the event went on sale, For more info, click here.
During his career with the Green Bay Packers from 1992-2007, Brett Favre was a two-time Super Bowl champ and three-time NFL MVP. Favre, who spent the most of his career with the Green Bay Packers, was a 20-year veteran of the NFL, having played quarterback for the Atlanta Falcons (1991), Green Bay Packers (1992–2007), New York Jets (2008) and Minnesota Vikings (2009–2010). He is the only quarterback in NFL history to throw for over 70,000 yards, over 500 touchdowns (Tom Brady broke his record), over 300 interceptions, over 6,000 completions, and over 10,000 pass attempts. On January 17, 2011, Favre officially filed his retirement papers with the NFL.
If you would like to book NFL speakers or athletes like Brett Favre for a speaking engagement, autograph signing, product endorsement, Super Bowl party, golf tournament, charity fundraiser or special event, contact Brett Favre's booking agent for appearance and speaker fees at Sports Speakers 360. For booking agent and appearance fee information on how to hire Green Bay Packers players for appearances, call 1.855.303.5450.