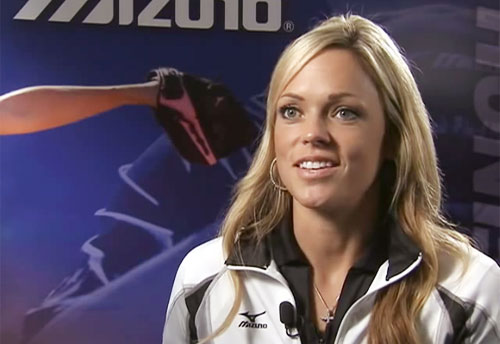 RAPIDS, MI – Softball's most famous female pitcher, Jennie Finch, was the keynote speaker on March 16, 2015 at the Champions of Character Pre-Season Kick-Off to be held at Cornerstone University's Hansen Athletic Center. Finch spoke on the theme "Don't Strike Out; Why Character Matters." The free event, begins at 6:30 p.m.and is open to West Michigan high school teams and its coaches, as well as the general public. Source: MLive.
The Champions of Character initiative focuses on five core values in the development of youths. They are integrity, respect, responsibility, sportsmanship and servant leadership. Other well-known sports names who have spoken on behalf of the program at Cornerstone are Dathan Ritzenhein, Misty May-Treanor, Lloyd Carr and Rick Mahorn.
"We are ecstatic to get someone like Jennie to help us share the mission of the Champions of Character program," Mike Riemersma, director of the program and Cornerstone University assistant athletic director, said. "Jennie is a well-known athlete and softball player not only here in the United States but all over the world."
Watch Jennie Finch speaking about building confidence on the mound
Jennie Finch, is an Olympic gold medalist and former American softball player who pitched for the USA national softball team and the Chicago Bandits. She helped lead Team USA to the gold medal at the 2004 Summer Olympics and a silver medal at the 2008 Summer Olympics. She is also a devout Christian who speaks openly about her faith in God. If you would like to book Jennie Finch for a speaking engagement, appearance or endorsement, contact Jennie Finch's booking agent at Sports Speakers 360 for fees at 1.855.303.5450.