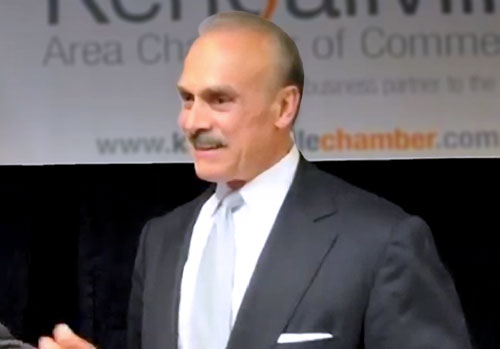 MILLWOOD, WV – Four-time Super Bowl Champion and Viet Nam Veteran, Rocky Bleier has been named as the keynote speaker for the Jackson County, WV Celebration Benefit Dinner scheduled for Thursday, October 19, 2017. The JCCF, Inc. Celebration Benefit event will be hosted by the Jackson County Community Foundation and will take place at the Jackson County Armed Forces Reserve Center, 8832 Point Pleasant Road Millwood, WV 25262. Source: Jackson Newspapers
According to the Jackson Newspapers article the focus of this year's event will be Jackson County veteran's groups:
"The six organizations are VFW Posts 5501 and 6669, American Legion Post 107, Marine Corps League 1065, Jackson County Hunting Heroes and Operation Jackson County Veterans."
The Community Foundation of Jackson County seeks to meet community needs and build permanent endowment funds and issue grants and scholarships:
"The Community Foundation of Jackson County- JCCF, Inc. is a non-profit public charity created by local citizens to build permanent endowment funds and issue grants and scholarships to meet community needs."
Tickets for the event may be purchased by calling 304-372-4500 or by sending an email to christyjccf@frontier.com.
Rocky Bleier is a former NFL running back who played for the Pittsburgh Steelers in 1968 and then from 1970 to 1980. Following his rookie season for the Steelers, Bleier was drafted into the U.S. Army and served in Viet Nam where he was severely wounded in an ambush. He was hit by rifle fire as well as a grenade explosion which injured his leg and took off part of his right foot. Even though doctors told him he would never play football again Bleier was determined to return to his team after the Steelers owner, Art Rooney, sent him a postcard saying that the team needed him. After his discharge from the Army Bleier fought back and returned in 1971 to play on special teams and continued an offseason training regimen that earned him a spot in the Steelers' starting lineup in the summer of 1974. Bleier went on to become a four-time Super Bowl Champion for winning Super Bowls IX, X, XIII and XIV.
Sports Speakers 360 is a booking agent for pro athletes. If you would like to book Rocky Bleier for a speaking engagement, appearance or endorsement, contact a Rocky Bleier booking agent for fees at 1.855.303.5450.