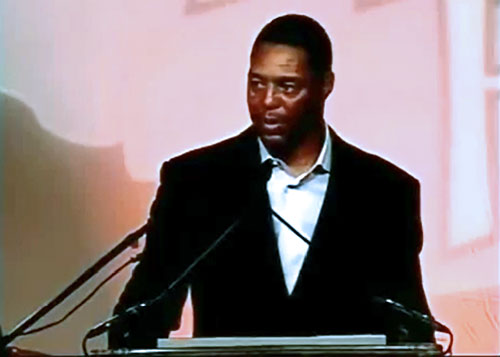 HOUSTON, TX – Former Raiders running back, CBS football analyst and Super Bowl Champion Marcus Allen made an appearance at Super Bowl Radio Row on Monday, January 30, 2017 in the week before Super Bowl LI. Marcus Allen joined media hosts on "The Bottom Line" radio show for an interview with Adam Clanton and Sean Jones where he shared some of his experiences as a professional football player. The show took place at Radio Row in the George R. Brown Convention Center, 1001 Avenida De Las Americas, Houston, TX 77010. Source: SportsTalk 790
During the SportsTalk 790 show Marcus Allen shared some of his insights that professional players face while in the game:
"There are a lot of guys that know how to play football … there's very few people that know how to win. … If you don't know how to win I mean, yeah you can make a play … learning how to win is making the play when you need it the most … at the most dire time."
Marcus Allen is a former NFL running back who played for the Los Angeles Raiders from 1982 to 1992 and the Kansas City Chiefs from 1993 to 1997. After his professional football career as a player Allen had a career in broadcasting with CBS TV. Allen was the Heisman Trophy winner for 1981 plus Super Bowl champion and MVP for Super Bowl XVIII. He was also a six-time Pro Bowl selection for 1982, 1984 through 1987 and 1993 as well as the NFL rushing yards leader plus the NFL Most Valuable Player for 1985. Marcus Allen was inducted into the College Football Hall of Fame in 2000 and the Pro Football Hall of Fame in 2003.
Sports Speakers 360 is a booking agent for pro athletes. If you would like to book Marcus Allen for a speaking engagement, appearance or endorsement, contact a Marcus Allen booking agent for fees at 1.855.303.5450.