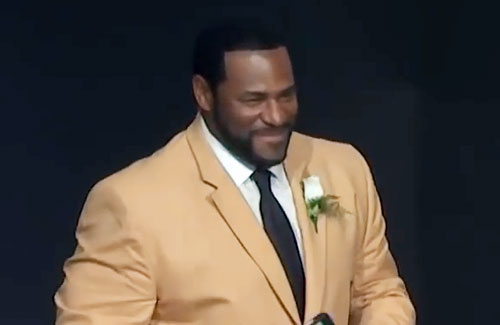 COLUMBUS, OH – Meet Former NFL halfback, NFL Network commentator, Pro Football Hall of Famer and Super Bowl champion Jerome Bettis at the 2017 Midwest Sports Spectacular show and autograph signing on Saturday, January 21, 2017. Show hours for Saturday, January 21st are from 10:00 a.m. to 6:00 p.m. during which time Jerome Bettis will make an appearance to meet and greet fans and sign autographs and memorabilia. The event will be hosted by the Ohio Sports Group and will take place at The Ohio Expo Center & State Fair Grounds: Cardinal Hall, 717 East 17th Avenue, Columbus, OH 43211. Source: Ohio Sports Group
Pricing:
Any item: $115
Photo Op: $125
Please visit the Ohio Sports Group website for complete details on the event or call 614-896-1016 for more information:
"Please note that the autograph signings will start when the photo ops are done so they may start earlier or slightly later than the set autograph signing time."
Jerome Bettis is a former NFL halfback who played for the Los Angeles / St. Louis Rams from 1993 to 1995 and the Pittsburgh Steelers from 1996 to 2005. He was a six-time Pro Bowl selection for 1993, 1994, 1996, 1997, 2001 and 2004, a two-time First-team All-Pro for 1993 and 1996, a Second-team All-Pro for 1997 plus he is a Super Bowl Champion for Super Bowl XL in 2006. Jerome Bettis was awarded the NFL Offensive Rookie of the Year for 1993, the NFL Comeback Player of the Year for 1996, the Walter Payton NFL Man of the Year for 2001 and he was inducted into the Pro Football Hall of Fame in 2015. Bettis is considered to be one of the best big backs of his era and was an integral part of the Pittsburgh Steelers winning Super Bowl XL. He is a commentator for the NFL Network and a former NBC studio analyst for Football Night in America.
Sports Speakers 360 is a booking agent for pro athletes. If you would like to book Jerome Bettis for a speaking engagement, appearance or endorsement, contact a Jerome Bettis booking agent for fees at 1.855.303.5450.