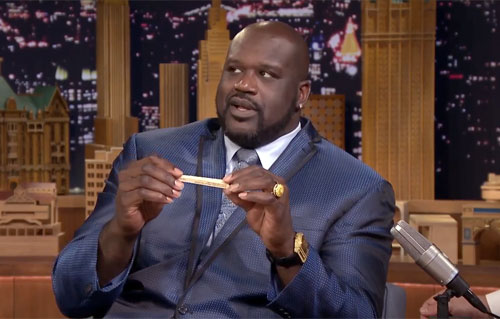 DECATUR, GA – Basketball star and author, Shaquille O'Neal Decatur, will make an appearance in Decatur, GA to promote his new children's book, "Little Shaq Takes a Chance." The event is scheduled for Saturday, April 30, 2016 between 10 a.m. to 12:00 noon and will take place at the First Baptist Church of Decatur, 308 Clairemont Ave., Decatur, GA 30030. Source: Decatur-Avondale Estates Patch.
Shaq's new book, published by Bloomsbury Publishing Inc., encourages children to find their true talents. It is scheduled to be released on May 26, 2016.
Watch video of Shaquille O'Neal with Jimmy Fallon Oct 2015
The event will include a limited autograph signing according to the Patch.com article:
"At the Decatur event, tickets for the autograph-signing line will be given to the first 300 people to buy a copy of "Little Shaq Takes a Chance" at the event."
Unfortunately O'Neal will not be able to sign personal items or memorabilia and posed photos or selfies with Shaq will not be allowed.
"He will not be able to personalize books and there will be no signing of memorabilia. Visitors are asked not to bring jerseys, photos or other sports equipment to be signed."
Shaquille O'Neal is a retired basketball player, former rapper and current analyst on the television program Inside the NBA. Standing 7 ft 1 in tall and weighing 325 pounds, he was one of the biggest players ever to play in the NBA. O'Neal was drafted by the Orlando Magic with the first overall pick in the 1992 NBA Draft. After four years with the Magic, O'Neal signed as a free agent with the Los Angeles Lakers where he won three consecutive championships in 2000, 2001, and 2002.
Sports Speakers 360 is a booking agent for pro athletes. If you would like to book Shaquille O'Neal for a speaking engagement, appearance or endorsement, contact a Shaquille O'Neal booking agent for fees at 1.855.303.5450.