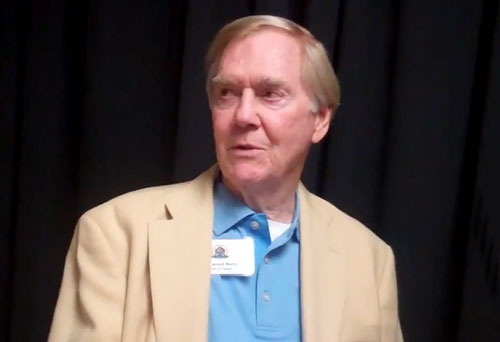 ANTIOCH, TN – Join former Baltimore Colts receiver, NFL coach and Hall of Famer Raymond Berry in Antioch, TN for an appearance and autograph signing on Saturday, February 25, 2017. Raymond Berry will make an appearance from 11:00 a.m. to 1:00 p.m. to meet and greet fans and sign autographs and memorabilia. The event will take place at the Lighthouse Christian School, 5100 Blue Hole Rd, Antioch, TN 37013. Source: Facebook
Pricing:
First autograph: Free
Additional autographs: $25 each
According to the Facebook page for the event, this is a free autograph session for one autograph but additional autographs will be available for $25 each:
"One autograph per person for free and additional autos will be $25.00 per auto."
Raymond Berry is a former NFL receiver who played his entire playing career from 1955 to 1967 for the Baltimore Colts. Berry then had a 25 year coaching career from 1968 to 1992. He was a wide receiver coach for five teams: the Dallas Cowboys from 1968 to 1969, the University of Arkansas from 1970 to 1972, the Detroit Lions from 1973 to 1975, the Cleveland Browns from 1976 to 1977 and the New England Patriots from 1978 to 1981. Following that he was head coach for the New England Patriots from 1984–1989, and then the quarterback coach for the Detroit Lions in 1991 and the Denver Broncos in 1992. Raymond Berry was inducted into the Pro Football Hall of Fame in 1973.
Sports Speakers 360 is a booking agent for pro athletes. If you would like to book Raymond Berry for a speaking engagement, appearance or endorsement, contact a Raymond Berry booking agent for fees at 1.855.303.5450.