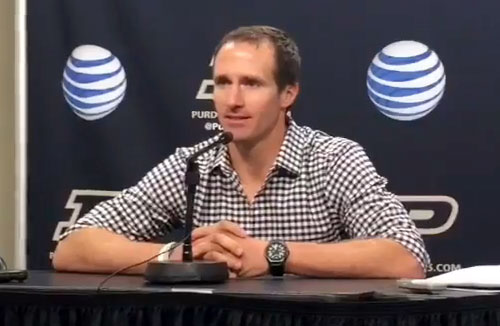 WEST LAFAYETTE, IN – New Orleans Saints quarterback, Drew Brees spoke to the media during his visit to Purdue University for the Spring Football Game on the weekend of April 16th, 2016. Brees played college football for Purdue and his weekend visit was to show support for his alma mater. Source: The Times-Picayune
According to the Times-Picayune article in nola.com Brees was on a tight schedule because he had to return to New Orleans for the Will Smith memorial service:
"He had to hurry back to New Orleans to attend the memorial service for Will Smith, but Brees told reporters in West Lafayette, Ind., that it was important for him to make the trip to support the Boilermakers."
Drew Brees is the current quarterback for the New Orleans Saints. Brees played college football for Purdue University and was chosen by the San Diego Chargers in the second round of the 2001 NFL Draft. Brees is a seven-time Pro Bowl selection, holds multiple NFL passing records, and led the Saints to a Super Bowl championship in 2010.
Sports Speakers 360 is a booking agent for pro athletes. If you would like to book Drew Brees for a speaking engagement, appearance or endorsement, contact a Drew Brees booking agent for fees at 1.855.303.5450.