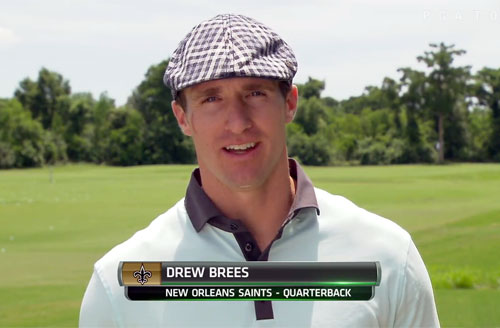 AUSTIN, TX. — New Orleans Saints quarterback and Super Bowl champ, Drew Brees, put his single-digit-handicap and strong charitable efforts on display on June 28th in an event at Topgolf Austin. Billed as "The Topgolf Challenge with Drew Brees", the event is a partnership between the increasingly popular golf range and the Brees Dream Foundation, with money being raised for the Dell Children's Medical Center of Central Texas. Source: Golf Digest.
"Austin is my hometown, and Brittany and I have wanted to find a way to get involved and give back," Brees said. "Through the partnership with Topgolf, The Brees Dream Foundation can host a fun and impactful event to help children who have been victims of violent crime. Dell Children's provides outstanding care for these kids but sadly their needs are growing. We are proud to partner with Topgolf and Dell Children's Medical Center to help these children find the path to recovery from abuse."
Drew Brees is the current quarterback for the New Orleans Saints.He is a seven-time Pro Bowl selection, holds multiple NFL passing records and led the Saints to a Super Bowl championship in 2010. Brees is a hero in New Orleans known for his charitable efforts after Hurricane Katrina, and he has raised more than $22 million through his foundation. The Brees Dream Foundation is raising money in the June 28th event to support the Dell Children's Medical Center of Central Texas, a child and adolescent healthcare services center in Austin which sees nearly 150,000 patients per year.
Sports Speakers 360 is a booking agent for motivational sports speakers. If you would like to book pro athletes or NFL stars like Drew Brees for a speaking engagement or appearance, please contact Drew Brees's booking agent for speaker fee information. For details on how to hire New Orleans Saints players for appearances, call 1.855.303.5450.