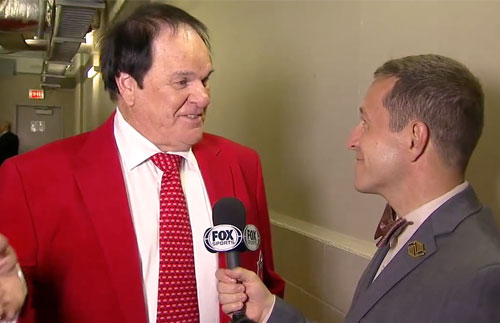 DAYTON, OH – Baseball legend Pete Rose will visit Dayton, Ohio on Saturday, April 16, 2016 and will appear at the Grand Opening VIP Lunch of the Rip Rap Roadhouse restaurant and bar. The event is scheduled from 11 a.m. to noon at the Rip Rap Roadhouse, 6024 Rip Rap Road, Dayton, OH 45424. Source: Dayton Daily News
The Dayton Daily News article gives a run down on Pete Rose's schedule for the day:
Pete Rose's appearance at the Rip Rap Roadhouse is one of several events scheduled for the day. At the VIP Lunch event, Rose is scheduled to speak at the outdoor stage (weather permitting). Fans will also be able to interact with Rose in a Q & A period following his speech. There will also be photo opportunities, autograph signings and memorabilia purchases.
Pete Rose, nicknamed "Charlie Hustle," is a former player and manager for the Cincinnati reds. Rose played from 1963 to 1986, and managed from 1984 to 1989. Rose, a switch hitter, is the all-time Major League leader in hits (4,256), games played (3,562), at-bats (14,053) and outs (10,328). He won three World Series rings, three batting titles, one Most Valuable Player Award, two Gold Gloves, the Rookie of the Year Award, and also made 18 All-Star appearances at an unequaled five different positions (2B, LF, RF, 3B & 1B).
Sports Speakers 360 is a booking agent for pro athletes. If you would like to book Pete Rose for a speaking engagement, appearance or endorsement, contact a Pete Rose booking agent for fees at 1.855.303.5450.