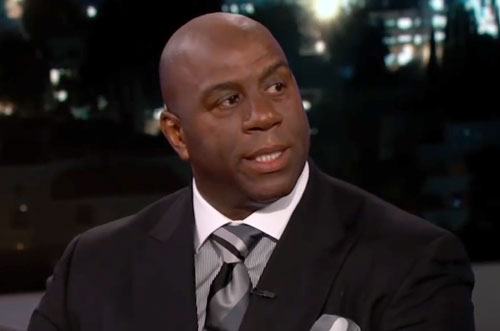 SAN JOSE, CA – Meet Magic Johnson, former Los Angeles Lakers star and Hall of Famer at an autograph signing on Saturday, June 24, 2017. Magic Johnson will make a special guest appearance from 3:00 p.m. to 5:00 p.m. to meet and greet fans and sign autoraphs and memorabilia. The event will be hosted by World Of Sports Memorabilia LLC and will take place at Santa Clara County Fairgrounds, 344 Tully Road, San Jose, CA 95111. Source: Facebook
Pricing:
Flats: $160
Premiums: $190
According to the host's Facebook page, proceeds from the event are to go to the Hilltoppers Academy School to help take kids on college tours
"Proceeds go to the Hilltoppers Academy School to help take kids on college tours"
For more information contact the host at 408.286.2151 or email to info@worldofsportsmem.com
Earvin "Magic" Johnson is a national media figure who runs Magic Johnson Enterprises, a conglomerate company having a net worth of $700 million. The company's business interests include a nationwide chain of movie theaters, restaurants, a film studio as well as other business ventures. Magic Johnson is the current President of basketball operations for the National Basketball Association (NBA) plus the Los Angeles Lakers. Johnson is a former NBA point guard who played his entire playing career for the Los Angeles Lakers from 1979–1991 plus 1996. In 1994 he was coach for the Lakers and in 1996 returned as a player for one last season. Johnson is a five-time NBA champion for 1980, 1982, 1985, 1987 and 1988 plus he is a three-time NBA Most Valuable Player for 1987, 1989 and 1990. Johnson also is a twelve-time NBA All-Star for 1980 and 1982–1992 plus two-time NBA All-Star MVP for 1990 and 1992. In 1992 the Lakers retired his number 32 jersey and in 2002 he was inducted into the Basketball Hall of Fame.
Sports Speakers 360 is a booking agent for pro athletes. If you would like to book Magic Johnson for a speaking engagement, appearance or endorsement, contact a Magic Johnson booking agent for fees at 1.855.303.5450.