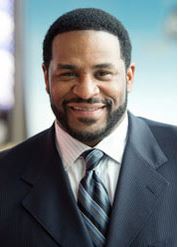 Former Pittsburgh Steelers Hall of Fame Running Back Jerome Bettis will be the keynote speaker at The WVU Heart and Vascular Institute Gala on Saturday, October 27. The WVU Heart and Vascular Institute is a medical institute that seeks to provide high-end technology and care for every citizen in West Virginia and nearby states struggling with heart and vascular issues. Proceeds from the gala will benefit the Angel Fund, which helps patients receive treatments they may not normally have access to.
This event will take place this Saturday at 6 pm at the Nemacolin Woodlands Resort, 1001 Lafayette Dr, Farmington, PA 15437. For more information, please visit https://wvumedicine.org/heartgala/
More information on Jerome Bettis
Jerome Bettis played for the Steelers from 1996-2005 and played an integral role in the Steelers winning Super Bowl XL. At the time of his retirement in 2006, Bettis ranked fifth all-time in rushing yards with 13,662. Nicknamed "The Bus", he also scored 91 rushing touchdowns and eclipsed the 100-yard rushing mark 61 times during the regular season. He was inducted into the Hall of Fame in 2015.
Booking Jerome Bettis & Booking Fees For Your Event
PFP Sports & Celebrity Talent Agency is a speakers bureau, booking agency and marketing company that represents organizations seeking to hire athletes, motivational speakers and inspirational speakers for personal appearances, speaking engagements, celebrity endorsements and spokesperson campaigns. If you would like to book Jerome Bettis for a speaking engagement, appearance or endorsement, please contact a Jerome Bettis booking agent for more information at 855-303-5450.